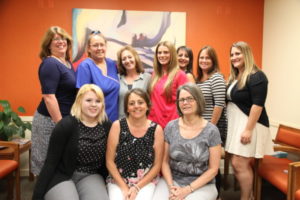 Our friendly and knowledgeable staff is dedicated to making sure every patient has an excellent experience at our practice.
Making an appointment
Please call our office at (203) 877-5634. If you are a new patient, please be prepared with your insurance information. We will also ask that you download and complete the New Patient Packet to bring with you to your first appointment.
Renewing your prescription
Please call  your pharmacy . Please allow 2 business day for processing.
Requesting medical records
You may request your medical records by completing the Medical Records Request Form and faxing it back to us at (203) 876-1840.
Questions about your bill
Our practice makes every effort to resolve any issues with the insurance company before sending out your bill.  If you have questions about your copay, coinsurance, or deductible amounts please contact your insurance company first.  If your question is still not resolved, please call Ellen at (203) 877-5634, extension 113 . If you have a change of insurance please call Liz at extension 114.
Contacting your physician
If you have an urgent matter during or after regular business hours, call us at (203) 877-5634. After regular business hours our answering service will direct your call to the on-call physician. We have a physician on call 24 hours a day/7 days a week.
If you are currently having a medical emergency, call 9-1-1.